Introduction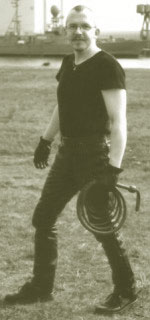 Dear readers,

in early 1994, I started to collect whips. What once begun with a used latigo swivel handle bullwhip has grown into a quite big collection of whips of numerous styles and purposes.
WorldWideWhips is the online presentation of this collection. Main purpose of this website is to share information with otherwhip collectors/fans/enthusiasts around the world and to show the large variety of whips. I try to show the whole world of whips including its "dark side", so these pages include some self-defense, flagellation and BDSM whips. If you have questions of any kind, feel free to ask. No "cowboy talk" necessary. Everybody interested in whips is welcome.
Note: WorldWideWhips is a 100% non-commercial website. The displayed whips are not for sale.